Hollywood Hill Real Estate News – March 2017
March 10, 2017
Located in Woodinville, Hollywood Hill is a unique wine country neighborhood.  One of the older neighborhoods in Woodinville made up of approximately 1,400 homes.  Originally the homes were mostly working farms now you will find a good mix of many different housing options. Equestrians to winemaking garagistes call their home Hollywood Hill.
In the last year, the median price for a home on the hill jumped up 12%.  The median price is currently $836,000.
Prices will most likely continue increasing due to the lack of homes for sale.   The current supply of inventory is running at 1.7 or less than 19% of last years inventory numbers.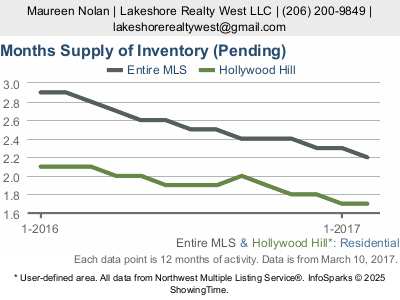 If you have any questions about this data or are interested in buying or selling a home on Hollywood Hill feel free to contact:
Maureen Nolan – 206-200-9849 |  maureen@lakeshorerealtywest.com